IDEC, leader in the design and construction of turnkey projects involving logistics, industrial and service sector properties, has begun work on a new warehouse for ARGAN in Meung sur Loire (Loiret). This project, which is due to be handed over in October, is another joint effort from IDEC and the specialist in the development and leasing of logistics platforms.
13,000 m² logistics warehouse
ARGAN, the property company specialising in the development of logistics warehouses is once again counting on the IDEC teams to work on a project near Orleans, which will be home to ANIMALIS, a firm specialising in the sale of products and accessories for animals. This new project which was started in April is being developed over 13,000 m². It includes two units, a 600 m² office block, a charging area, an area dedicated to maintenance and a 300 m² pallet storage area. The project may be further developed with three additional units possible.
Six and a half months of work
The IDEC building teams in charge of carrying out this project have been at work now for more than two months. After the ground was prepared, work started on pouring in the foundations, before the concrete pillars were erected and that work is now complete. The next stages involve the installation of the roofing and cladding. The main structure will be complete with roof on in July. The building is scheduled to be handed over in October.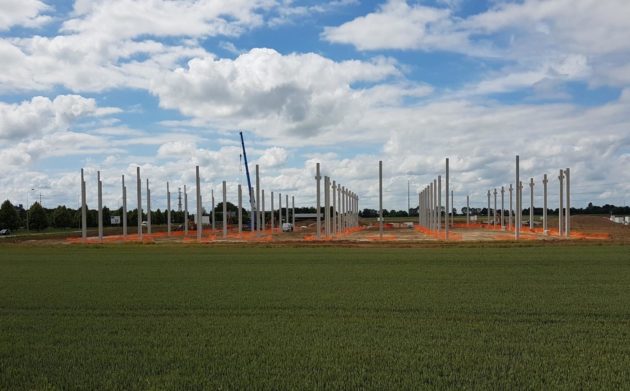 Another joint project between ARGAN and IDEC
The construction of this project underlines once again the trust that exists between ARGAN and IDEC. This project follows on from many others that have been handed over, such as the projects built in Saint Ouen l'Aumône, which now house DJECO, LA MAISON DU WHISKY and SIMPLY MARKET, or the 70,000 m² warehouse being built for CARREFOUR in Moncel Les Lunéville. To finish, we should add that the two companies are currently working with GAZELEY on the erection of France's largest logistics project for CONFORAMA in Tournan en Brie.