IDEC, leader in the design and construction of turnkey projects concerning logistics, industrial premises and buildings for the service sector, has just erected the first pillars for a multi-temperature warehouse in Saint-Loubès. This operation confirms the trust that TRANSGOURMET has placed in IDEC after the successful construction of the firm's headquarters and a logistics warehouse in Valenton (Val de Marne) in 2014. It will take eleven months of work to build this 23,000 m² project.
TRANSGOURMET, a food wholesaler specialising in the distribution of fresh produce, groceries and frozen products for the catering trade will be benefitting from a new logistics platform in Saint Loubès from the summer of 2018. This project built by the IDEC teams will replace the firm's existing site, which no longer suits the needs of its business.
A multi-temperature warehouse
The project currently being built by IDEC has been developed around a 19,500 m² warehouse comprising four units, two dry ones, one above zero cold unit and one freezer unit (- 25°c). The cooling production for the whole warehouse will be taken care of by the installation of 27 evaporators. This project is based around 2200 m² of offices with a central patio, rest rooms and a staff restaurant in addition to 1500 m² of service rooms in this project.
This logistics platform will benefit from Very Good BREEAM certification thanks to the work done by the environment department at IDEC. A set of photovoltaic panels will be fitted on the roof of two of the units.
The second time IDEC has worked for TRANSGOURMET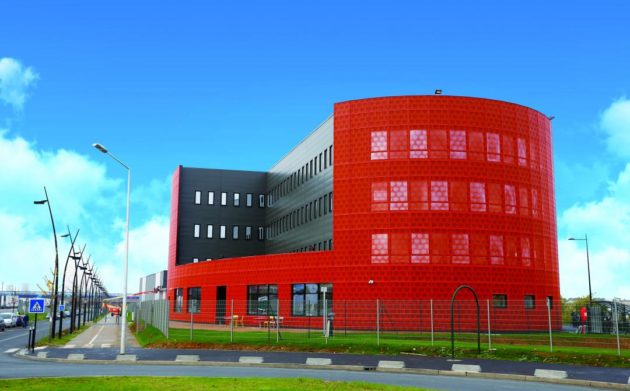 This latest project that is currently being built comes after a first successful joint programme. IDEC already worked alongside TRANSGOURMET on the construction of their headquarters with a surface area of almost 5000 m² and a 19,400 m² controlled temperature warehouse. Both these projects were built in Valenton (Val de Marne) and handed over in 2014.